Honoring 75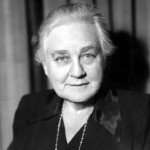 Mary Breckinridge ,

Founder, Frontier Nursing Service
The late Mary Breckinridge, Founder Frontier Nursing Service. Mary Breckinridge was born in 1881 in Memphis. She attended the St. Luke's school of nursing, and in 1910, graduated with a degree in nursing. Mrs. Breckinridge joined the American Committee for Devastated France following the end of World War I. While in Europe, she became acquainted […]
Read More ›
---
75 honorees for 75 years of service. Our list is impressive: From the first nurse to receive a MacArthur Fellowship, to a nurse practitioner who is helping the Australian government introduce the role of Doctor of Nursing Practice to their healthcare system, and a leader who made contributions in maternal-child health in Mexico, West Africa and Egypt.
View All ›
75th CELEBRATION

Join us for an amazing weekend commemorating 75 years of Frontier's history. View a full list of events, and register today!
REGISTER NOW ›
OCT. 4 2014
In 1939, Frontier Nursing University midwives set out on horseback over rough Eastern Kentucky terrain to deliver babies and forever enrich the lives of rural families. Seventy-five years later, Frontier graduates travel by more modern means, including planes in Alaska, to provide personalized healthcare to babies, moms and families in every state and around the world. These Pioneers for Healthcare are celebrated as Frontier Nursing University - which has the longest continually-operating and largest midwifery program in the nation - marks 75 years as the birthplace of nurse-midwifery and family nursing in America.
ABOUT FRONTIER
For 75 years, Frontier Nursing University, with its heart in the mountains of Eastern Kentucky, has educated nursing and midwifery leaders who have touched the lives of children and families across the nation and around the globe. Our master's and doctoral programs educate nurse-midwives and nurse practitioners in the primary care of women and families.
IN THE NEWS
‹ Celebrating 75 Years
View full article on Frontier.edu.
‹ Frontier Honoring 75
View the full article on Frontier.edu.
‹ Anniversary Events
For a complete list of the anniversary events, see Frontier.edu.
‹ Busting Midwifery Myths
View full article on Frontier.edu
‹ FNU Featured in STORY Magazine
View the full article in STORY Magazine!
‹ FNU Celebrating 75 Years
View full release (PDF) June 2014: Lexington, KY. – In 1939, Frontier Nursing University nurse-midwives set out on horseback over rough Eastern Kentucky terrain to care for women, attend births, and forever enrich the lives of rural families. Seventy-five years later, Frontier graduates travel by more modern means, from mobile health clinics to floatplanes in Alaska, […]
‹ Journey Into Wellbeing
In late 2012, Debra K, host and executive producer of The Journey into Wellbeing, learned of Mary Breckinridge…