EVENTS
Registration now open! Register online today!
---
In honor of our 75th anniversary, Frontier Nursing University will host a celebratory weekend for friends near and far. Frontier alumni, students, faculty, staff, preceptors, couriers, friends and supporters from across the country are invited to attend the full weekend of events. Check out the events below and be sure to stay tuned for more details. Don't miss our signature celebration event, the FNU Anniversary Gala on Saturday, October 4th!
---

---
Friday, October 3, 2014:
EVENING RECEPTION

Join with other frontier family to enjoy an evening at the beautiful Bodley-Bullock House in downtown Lexington. Barbecue, Bluegrass music, cocktails and wonderful company will be the perfect way to end the day.
Saturday, October 4, 2014:
Brunch with Kentucky Author Silas House Join us for brunch and discussion with celebrated Kentucky Author Silas House in the private banquet room at Shakespeare & Co. in downtown Lexington.
Day Trip to Hyden, KY Spend the day immersed in the history of Frontier Nursing University. Ride with other FNU family via tour bus to Hyden, KY for a tour of campus, lunch at the historic Wendover Bed & Breakfast Inn and some time enjoying the annual Mary Breckinridge Festival! Busses will leave from the Lexington Convention Center High Street Parking Lot promptly at 8:00 AM.
75th Anniversary Gala Put on your dancing shoes and cocktail attire to celebrate the night away. Enjoy a sumptuous dinner, cocktails, dancing and many other surprises! This event will be held in the Bluegrass Ballroom of the Lexington Convention Center, housed in the same complex as the Hyatt and Rupp Arena in downtown Lexington.
Sunday, October 5, 2014
Frontier Courier Breakfast Are you a former FNS Courier? Join us to connect with fellow Couriers and share memories from your time as a Courier. Enjoy breakfast, a reading from the new "Unbridled Spirit" book, and an open storytelling time for you to share your favorite memories.
Day at Keeneland Race Track 

Join us in the Grandstand for a day of fun at the races. 

Watch the races outside in individual seats with backs and arm rests while being protected from the sun and rain.
Lunch at Keeneland Race Track  Enjoy lunch at Keeneland prior to the start of the races.  Overlooking the paddock, the Phoenix Room offers non-smoking, buffet dining in a business casual setting. Room opens at 11 a.m. Buffet is available 11:30 a.m. – 3:00 p.m.  Dress code: No denim of any color. No athletic attire. Gentlemen - No open toe shoes. No turtle necks. Collared shirt and dress slacks. Coat and/or tie optional. Ladies – dresses, pantsuits or capris. Any dressy shoes. Menu: Lunch buffet features Keeneland's famous corned beef, roast sirloin, chicken entree, vegetables du jour, potato du jour, salad bar, dessert, iced tea and coffee. Alcoholic beverages, juices and soft drinks are not included.
Buy tickets for any individual event or opt to KEEP SHOPPING to purchase additional event tickets before checking out. We look forward to seeing you!
---

---
---
Hotel and Accommodations
If you are making travel arrangements for your visit to Kentucky, we have established a block of rooms at a special discounted rate at the two following hotels in Lexington. Reservations must be made by August 31 in order to guarantee a room at the designated rate.
---
Hilton Downtown Lexington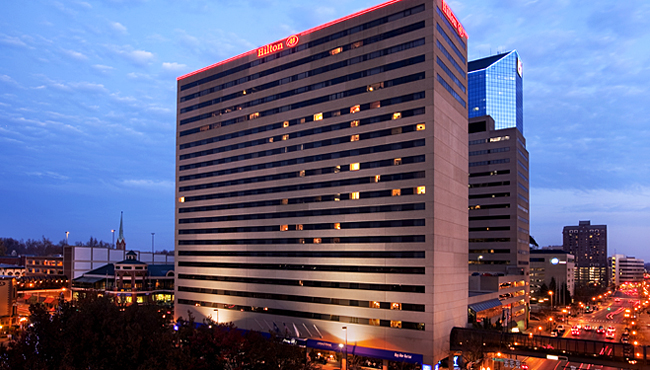 369 West Vine Street Lexington KY www.lexingtondowntownhotel.com The Hilton Downtown Lexington is conveniently within walking distance of a variety of restaurants, historic and cultural sites, and entertainment and nightlife options. It is also directly across the street from Saturday night's Anniversary Gala event. Instructions for booking rooms in the Frontier Nursing University block: Each individual guest will make their own reservations by calling toll free 1-877-539-1648. Identify yourself as a member of the Frontier Nursing University group using the group code: FNU104. You may also book online by going to: http://www.lexingtondowntownhotel.com/. Enter arrival and departure dates, click on Book Now. Next page enter the 6 digit group code (FNU104), under Group Code. Now choose bed types and book the reservation. All reservations must be guaranteed and accompanied by a first night room deposit or guaranteed with a major credit card. Reservations canceled after 24 hours prior to day of arrival will be charged for the first night's room and tax.
---
Hilton DoubleTree Suites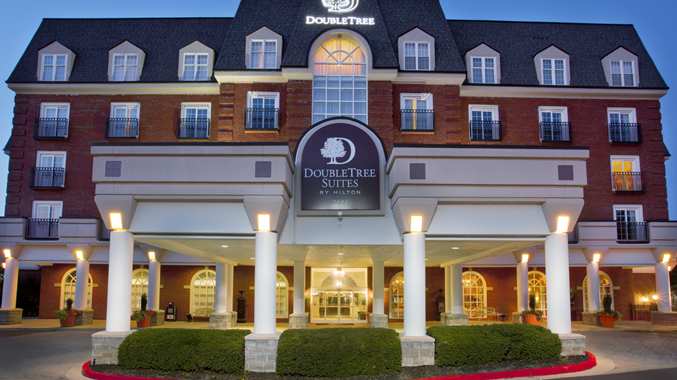 2601 Richmond Road Lexington KY lexingtonsuites.doubletree.com The Hilton Doubletree Suites is located just minutes from downtown Lexington. Transportation will be needed to reach downtown but there are a variety of restaurants and other amenities within walking distance of the property. Instructions for booking rooms in the Frontier Nursing University block: The easiest way to make reservations is to contact the hotel at (859)268-0060 and reference the Frontier Nursing University Group block on the dates you wish to stay. You may also make reservations online once you obtain the group code via phone. Go to http://lexingtonsuites.doubletree.com/. Select the Arrival and Depart dates, Click "Add Special Rate Code" and then add the Group Code, and hit "Check Availability" and finalize the reservation.